Tuesday, February 08, 2005
Spot The Pratchett Reference, Win A Pony
Happy Fat Tuesday everybody!
Tomorrow is Ash Wednesday, a day of absolute deprivation and despair as we prepare in joyful hope for the coming of our Lord and Savior J. H. Christ, Esq. by being really hungry and cranky and yelling at our kids for no reason at all.
But today, oh today... if only I lived in Rio de Janeiro or New Orleans. According to what I see on TV, today is all about boobies in those towns. The long, slow days of Lent, when our self-sacrifice makes us pray for death on a daily basis as we suffer without our caffeine or our nicotine or our $1,000/day internet porn addiction or whatever it is we choose to forego for 40 days is assuaged (apparently) by seeing as many boobies as one can right up until the last second. Because nothing says religious sincerity like a good old fashioned bacchanalia
just
before we devote ourselves to God.
But since I don't live in N'awlins or Rio and the only boobies I have regular access to are way out in Newport all day long, I decided to start the day off by wetting my corn flakes with Jim Beam. I felt kind of bad because of the promise I made to the family of the woman who donated my second liver (come on, I went to a state school... cirrhosis is like chlamydia in those places), but I won't tell them if you won't.
I have to pace myself though. Mrs. Pops said she's not bailing me out of jail
any more
. She sounded very firm last year after I punched that lady at the grocery store (she
clearly
had 11 items in the 10-items-or-less line, the bitch), so I'm afraid she might actually mean it. At least I know I can count on one of my new blog-made best-friends-forevers to come and get me in a pinch, right? Right.
Enjoy your gluttony, everybody.
Now, something else.
This picture is of the flowering plum tree outside my house.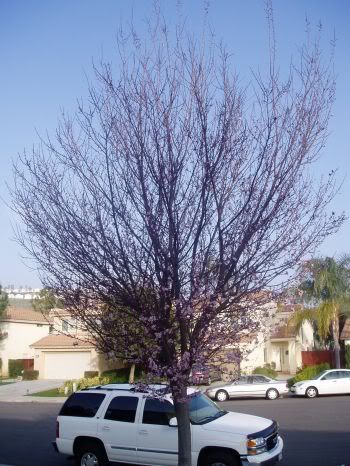 Yes stalkers, take your notes. Mine's the house with the flowering plum tree out front. That narrows it down to every house built in SoCal in the last 15 years. Happy hunting.
That's not my SUV, in case you were wondering.
Anyone want to tell me what's wrong with the picture above? Anyone? No?
OK, try again.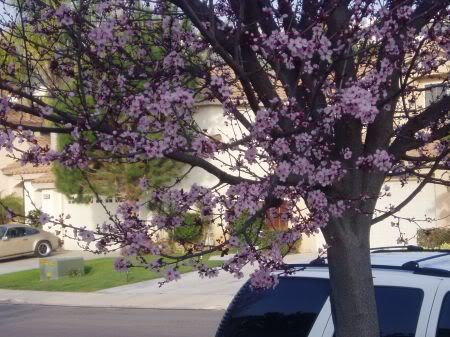 From up close now. Lovely, aren't they?
Figure it out yet? OK, here's a hint: the pictures were taken this morning...
Got it? Oh that's it... yes! The flowers! It's spring-time in California! And it's the first week of February.
I tell you, I'm pretty damned ambivalent. Sure, it's nice to rub it in the faces of people who live in the godforsaken hell-holes all over this country, currently freezing their redneck asses off in dirt-floor hovels (or wherever it is you people live). I take a great deal of pride in accidentally being born someplace where the climate is generally mild.
But at the same time, for the love of all that is holy, it's
February 8th
. It doesn't start getting cool and rainy out here until the middle of December and then within eight weeks, the trees think it's spring. That means summer is just five short weeks away!
And of course summer lasts for eight months...
Sometimes my smog-caused 20% reduction in lung capacity hardly seems worth it.
The only thing I can take comfort in is that I know by the time I'm finished with the bourbon and move on to the hard stuff (I make it myself from apples and... well, mostly apples) I won't know my own name, let alone what season it is. That tree out front and I will have alot in common.
This post on the Narcissus Scale: 7.7
Pops
Comments:
HFB: Not only have you stopped writing actual posts, but now you've stopped reading them as well. Whatever you're writing better be a humdinger.
Butcher: The only boobies I have access to in Newport are attached to my wife, who works there daily. To you, access is completely denied. Isn't there a Score's or a Spearmint Rhino in Newport? Or do you have to go to Huntington for sleazy stuff like that? I don't know. Find Dennis Rodman and he'll lead you to some Newport sleaze.
SJ: Actually, we got the digital camera two years ago. Only now is it finally realizing its full potential. Kinda sad when I think about it.
Post a Comment
<< Home
|