Sunday, April 17, 2005
I Exit Through The Spotlight Glare
It's Sunday. I'm exhausted. This weekend was Wedding #2 (of 2) in which my wife had to play bridesmaid. The last one of the year. We're done. Wheee!
My middle son is the godson of the bride, so he got to be Ringbearer. Sadly for him he was too young to attend the reception, so that meant he had to be taken back to my in-laws' house after the ceremony. They live very near to us in Riverside, which is nice.
Usually.
The wedding was in Alhambra and the reception in Commerce. These are in LA County. These are not near Riverside.
Since my wife was IN the wedding, shuttle service for my nearly-4-year-old was provided lovingly by Yours Truly.
The first drive out was actually sort of pleasant. We rarely get out to LA County, so it was a little tour of north OC/south LA. Anaheim Hills! Yorba Linda! Fullerton! Buena Park! La Mirada! Whittier!
Then there was the drive to the church from the bride's house/staging area. Santa Fe Springs! El Monte! San Gabriel!
Suffice it to say these are communities not prominently featured in any ads by the California Board of Tourism (if such a thing actually exists). If I had to describe them all, I would use the word "gray". They're all very gray. At least from the freeway.
Then I got to drive my boy back home after the ceremony. (Alhambra! San Gabriel! El Monte!...) Then I got to drive back to the reception (Corona! Anaheim Hills! Yorba Linda!...), do My Thing at the reception (in case you're curious, my thing is Not Dancing. I Not Danced through 4 straight hours of songs. I did join my wife for the Slow Circle Foot-Trampling dance during an odd playing of Depeche Mode's creepy "Somebody") and then drive home.
Commerce! Bell Gardens! Santa Fe Springs!...
I think you get the picture.
In all I logged nearly 300 miles of drive time. For my money if you sit in a car for 300 miles, when you step out of the car your foot should touch Las Vegas Blvd. and nothing else. In this case I was at the exact same place I started (home), +13 unrecoverable hours.
I did
come home with a bridesmaid
, however. So it was almost worth it.
I only learned one thing, though: if you want to clear the dancefloor at a wedding reception where the bride is a Filipina and the groom is Mexican, play "The Electric Slide". The Electric Slide is a dance for overweight white people in sensible shoes who make up for their complete absence of rhythm with a razor-sharp ability to follow simple instructions. The campaign to ban the Electric Slide starts here and now.
...
Quickly, there is a sign now that my region has arrived, culturally speaking. This is the cover of the first issue of
951 Magazine
: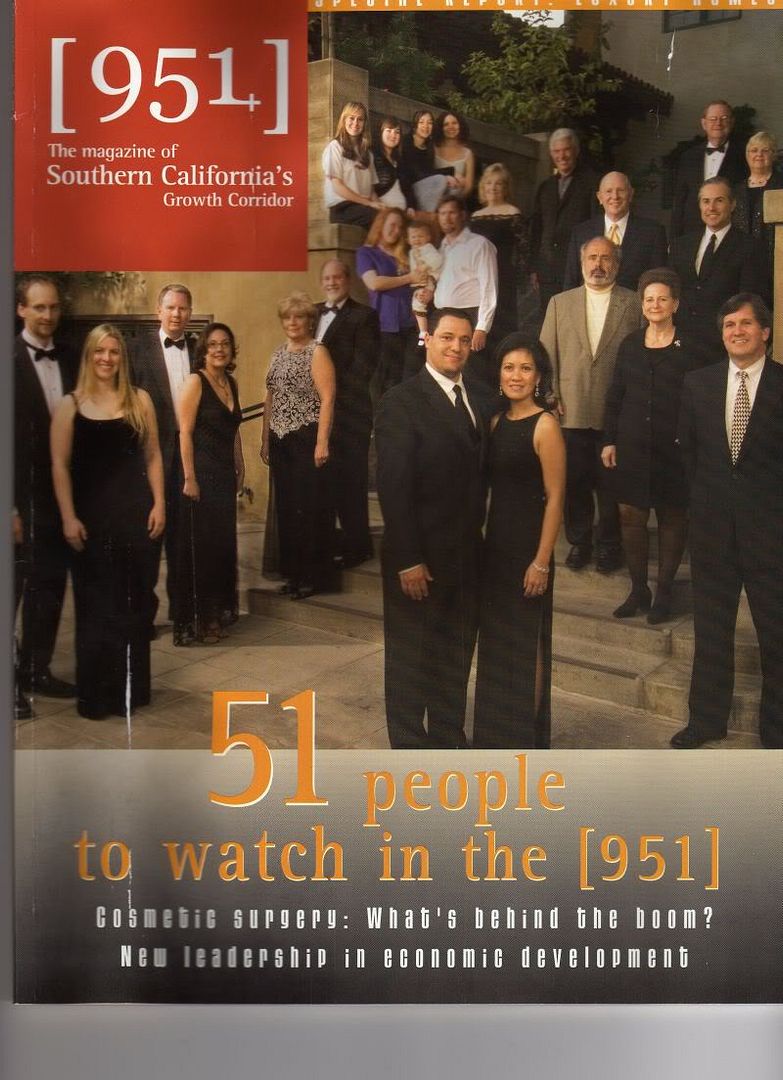 What does this picture say? It says "We can't just be known for our rednecks, meth labs, traffic and smog, oh no! If we're such out-liers, where did we get these tuxedos and prom dresses,
hmmmm
? And look, look! White people!
All I can say is you gotta move a lot of meth to get you a tuxedo.
Also, this picture was obviously taken at the Mission Inn,
the
place to go in Riverside County if you want some class and sophistication. I mean
the
not so much in the sense of primary or superlative, but more in the sense of "singular". It's the Mission Inn or stand in front of an orange tree being crushed by a bulldozer at a housing development.
The quality of the scan is shaky because the magazine sat on my lawn in a plastic baggie for three or four days before I realized what it was and cancelled my call to the cops to report serial littering. It got a little wrinkled. High class distribution system if you ask me.
But we in the 951 area code, we're big time now. Now we have
two regional-interest magazines to ignore
!
This post on the Narcissus Scale: 10.0
Pops
PS- an early leader for the Boringest Post Ever. Think of me when the 2005 Weblog Award nominations are up.
|